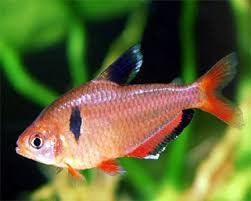 The Serpae Tetra
Hyphessobrycon eques
is a beautiful fish and really sparkles in the aquarium. A number of
common names
are used to describe this decorative tetra,
these include
Red Minor Tetra, Jewel Tetra, Callistus Tetra, Red Serpa, Blood Characin, Blood Tetra, and even Red Phantom Tetra.
This fish
is quickly recognized as a
Red Minor Tetra
while these other names have more of a story.
Their beautiful reddish color picks up flashy, jewel-type highlights, and
they have a large, almost diamond-shaped black spot just behind the gills.