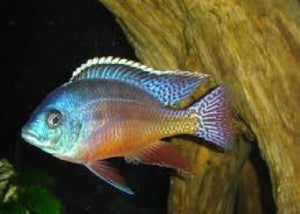 Haplochromis taeniolatus  is very dazzling in its adult male colors. It is an endemic species found only in Lake Malawi, Africa, but there are a number of color variations depending on where in the lake they originate.Males can reach a size of up to 11.3 centimetres (4.4 in)
The females however are not so brilliant. They basically have a silvery colored body with marked with various dark spots, lines or blotches, and sometimes a touch of orange in some fins, also depending on where they come from.
These cichlids are commonly known as the Spindle Hap, as well as Haplochromis Red Empress and Haplochromis Fire Blue for naturally occurring color morphs. A few location specific names include Tangerine Tiger, Chilumba Jetty, and Fire Blue. Some captive bred specimens are very red and have names such as Red Empress, or the 'Super Red Empress' which was developed in Europe.