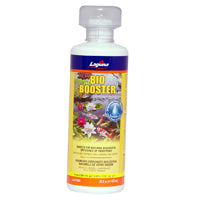 Laguna Bio Booster quickly goes to work as soon as you put it in the water and provides long-lasting results. A biological water treatment, Bio Booster contains millions of beneficial bacteria that boost the natural biological efficiency of ponds as well as reduce and control toxic ammonia and nitrite.
Bio Booster also matures filters and filter media, which is critical for the growth of beneficial bacteria. Safe for fish and plants, Bio Booster creates optimum water conditions for the entire pond environment.
Size : 473 mL (16 fl oz), treats 9,460 L (2,500 U.S. gal.) of pond water.
Other sizes available :
Laguna Bio Booster 2L (2.1 qt) (PT893)