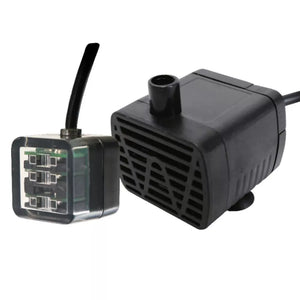 A plug and play auto top off system with redundancy
Easy to install
Reliable and fail-safe design with three optical sensors
Compact & magnetically mounted sensor housing
real-time protection against overflows and malfunctions
Status indicator lights to see status at a glance
The IceCap ATO EZ System includes a pump and sensor combo that offers peace of mind with its fail-safe design. The twin optical sensors minimize the frequent powering on and off of the refill pump, extending its life and reliability. Additionally, a third safety sensor provides an extra level of protection against overflows.
Installation is a breeze - simply move the magnet optical sensor to the desired water level in the return section of your sump and install the pump in your favorite ATO reservoir with the supplied tubing and accessories. 
When the water level drops below the bottom low-level sensor, it blinks blue until the water level rises to the middle normal level sensor, at which point a solid blue light displays. The top safety level sensor acts as a backup, shutting down the feed pump and flashing a red light in case of a malfunction.
Water Pump Specifications
Brushless DC Water Pump (30000hrs)
Dimensions: 1.5 x 1.5 x 1.5in
Maximum Head: ~6ft
Flow Rate: 50gph
Power: 5w
Tubing Size: ID 6.5mm/OD 8mm
What's in the Box
Optical Water Level Sensor with Magnet Mount
DC Refill Water Pump
Power Supply
6.5ft of Water Tubing
Universal Tubing Holder
Siphon Breaker