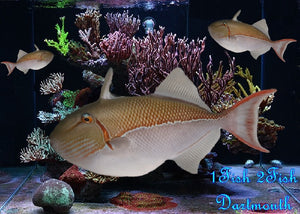 Other Common Names:: Gold Back Triggerfish, Bluelined Triggerfish
The Goldenback Triggerfish, Xanthichthys caeruleolineatus is about as rare as they comes when it comes to the family Balistidae. The Goldenback Triggerfish, shares the genus with the highly desired cross-hatch and blue throat trigger as well as the curious Kiri triggerfish, but it is far more rare.
While the Goldenback Triggerfish has a pretty wide geographic range, they are mostly found on very deep seaward reefs, 300 ft or more. Therefore, they are rarely collected by those who have the means. The number collected yearly can be counted on one hand, and there are years where none are collected at all.