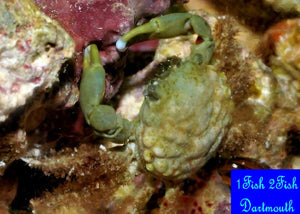 Common Names::  
Emerald Crab
, 
Green Clinging Crab
,  Jade Crab,  Mithrax Crab,  Green Crab. The
Emerald Crab
is well respected for its scavenging ability. It will enthusiastically feed on uneaten meaty foods and many types of nuisance algae. Unlike many other animals,
Mithraculus sculptus
will eat bubble algae and helps clean your aquarium of these algae. Its distinct, flat shiny green body and hairy legs easily identify the Emerald Crab.
Native to the reefs of the Caribbean, the Emerald Crab is nocturnal and hides in caves and amongst rubble during the day. In the home aquarium, this member of the Majidae family requires a well-established aquarium with plenty of rockwork and hiding places. Once familiar with its surroundings, the Emerald Crab will venture out of hiding during the day to forage on algae.