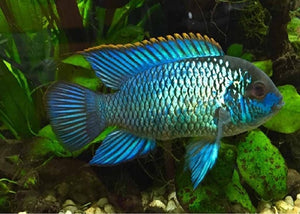 Electric Blue Acaras are actually peaceful cichlids for their size and can be housed in a community tank environment with other species of the same size. Some good tank mates include medium sized characins,  other relatively peaceful cichlids, Corydoras catfish, and Loricariids. The Electric Blue Acara are best housed in a densely planted 55 gallon or larger aquarium with a soft, sandy or fine gravel substrate, some driftwood branches, and some floating plants to provide shade.
The
Electric Blue Acara
is a color strain that has only been available in the United States since 2013.  They have the temperament of Rams and will not usually dig up the plants or rearrange the decor in your aquarium, nor will they harass other members of a community tank.
The Electric Blue Acara strain has a uniform iridescent blue color over the entire body of the fish as well as the fins.  Both sexes posses a bright orange trim stripe that runs along the top of their dorsal.