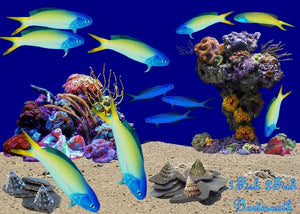 The Blue Jaw Tilefish is also known as the Starck's Tilefish, Blueface Tilefish, Blue Tilefish, and Bluehead Tilefish.
The Bluehead Tilefish, Hoplolatilus starcki, is truly blue-headed only as an adult. Juveniles are entirely blue, while both female AND male adults are blue-headed with a canary yellow body, thereby eliminating any hope of sexual dichromatism.
Tilefish are often categorized as Gobies, which is not surprising considering their diminutive size and elongate, cigar-shaped bodies. However, Tilefish are not closely related to (Gobies, which are of the family Gobiidae). Rather, (Tilefish belong to the family Malacanthidae), which includes larger species of commercial interest, as well as smaller aquarium species. Aquarium species are long and narrow, with small mouths and deeply forked tails. Both dorsal and anal fin structures are similarly long and low-lying, and are particularly understated when compared to the fins of Goby species. They are also much smaller than their commercial cousins, usually not exceeding about 8 inches in total length.